CrispAds Blog Ads
Thursday, August 17, 2006
Musica: LATWEENO.COM's Top 10 Jams!
1)Ne-yo- Sexy Love
2)Christina Aguilera- Aint No Other Man
3)Danity Kane- Show Stopper
4)Justin Timberlake- Sexy Back
5)Don Omar- Salio El Sol
6)Cassie- Me & U
7)Wisin y Yandel- El Telefono
8)Baby Cham ft. Alicia Keys- Ghetto Story (Remix)
9)Rakim y Ken Y- Down
10)Mario Vazquez- Gallery

Vote for your favorite jams!
Wednesday, August 16, 2006
Musica: New Pop Group Danity Kane to Release Debut Album!

Bad Boy Records new pop group, Danity Kane is releasing their self-titled debut album on August 22nd. The group was formed on MTV's Making the Band 3 by Sean "PDiddy" Combs. The group consists of Aubrey O'Day, Shannon Bex, Dawn Richard and the Latina Aundrea Garcia Fimbres. The group's first single and music video is titled "Show Stopper" and can be seen on MTV. You can listen to the entire album on: http://www.mtv.com/music/the_leak/#/music/the_leak/danity_kane/danity_kane/index.jhtml.

The album is off the hook. We are loving Danity Kane! These girls are hot and they have talent! Keep up the good work Danity Kane!

Check out the songs and let us know what you think! What are your favorite songs on the album? Who is your favorite band member? We want to hear from you!

You can also check out Danity Kane on August 23rd on TRL Live as they perform their hit single "Show Stopper"!
Tuesday, August 15, 2006
BIRTHDAY SHOUTOUTS!!
LATWEENO.COM would like to wish two very special people a HAPPY HAPPY BIRTHDAY!!
HAPPY BIRTHDAY TO YLENIA CASTILLO & ROBERT PANTALEON!! We wish you a wonderful day!!! Se estan poniendo viejos!!! Enjoy your day to the fullest!! =)
Monday, August 14, 2006
Movie Review- Quinceanera
Tu Cultura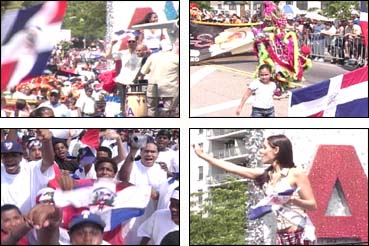 pictures courtesy of www.nyc.gov

Dominicanos and Latinos alike ALSAN SUS BANDERAS in Bronx and Manhattan this weekend. In Celebration of Dominican Culture and Heritage New Yorkers came out in the beautiful weather to Compartir like Compadres. Music lit up the streets and the beautiful flag colors were everywhere in sight. So a BIG BIG shout out to all my NYC and WORLDWIDE LATWEENOS...and lets remember that even though the Parade is over we should celebrate everyday in our hearts!!!!!!!
CINE: American Gangster

We just got word from a credible source that the movie, American Gangster is being filmed right now as we speak. The movie is currently being filmed in the South Bronx section of New York City. The movie is based on a true story about a famous drug lord, Frank Lucas who smuggled drugs to Harlem in the 1970s. Frank Lucas is being played by Oscar winner, Denzel Washington. Some other famous actors involved in this film include Russell Crowe, rapper T.I. and el Latino, John Ortiz. The film is scheduled to hit the box office in 2007.